Indian Institute of Democratic Leadership (IIDL), a center initiated by Rambhau Mhalgi Prabodhini (RMP), held the induction ceremony of its sixth batch of Post Graduate Programme in Leadership Politics and Governance on October 7, 2022, at RMP's Knowledge Excellence Centre campus at Uttan, Bhayander. 31 students from 13 states have joined this batch.
Chandrashekhar Bawankule, President of BJP Maharastra was the Chief Guest for the ceremony. Also present on this occasion were Ravindra Sathe, Director General, RMP and Dean, IIDL, and Devendra Pai, Chief Academic Officer, RMP, and Course Director, IIDL
Ravindra Sathe welcomed the chief guest. Sathe pointed out that this course is to guide students to find the right path to becoming a politician.
Chandrashekhar Bawankule while interacting with the students said that just bookish knowledge is not important one has to have a low profile and work at the ground level. He guided the students and informed them, "You have to increase your patience, keep calm and give time for things to improve. Have heart-to-heart talks with the citizens, relate to their problems, and find government policies that can give solutions to them.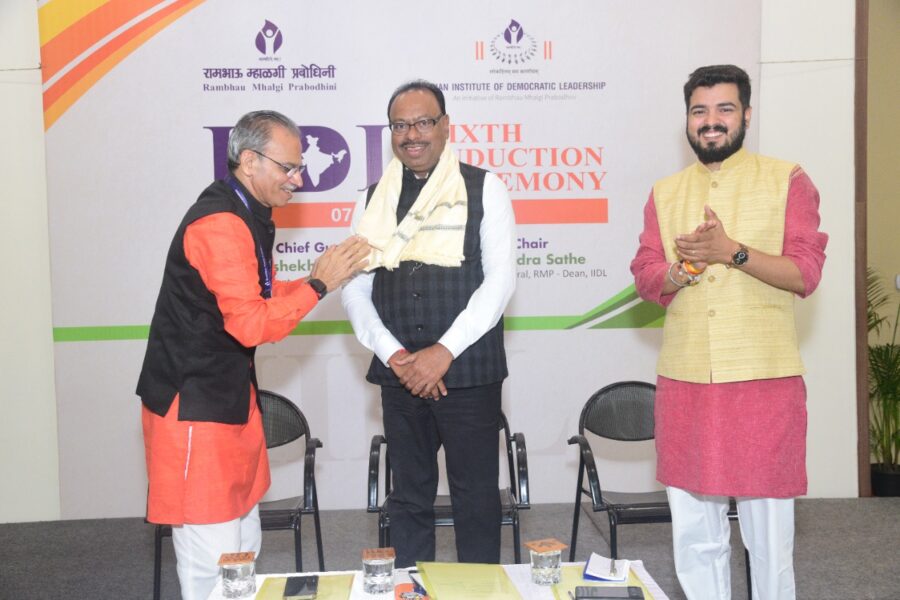 There are many policies for the poor, women as well as economically backward people, which have to be studied by the politicians and informed to the needy on a timely basis. Read autobiographies of great politicians, study the constitution of India which is one of the best constitutions in the world." To become a 21st-century politician one more quality is needed to know social media properly, pointed Bawankule.
Anjali Pandit, Course coordinator welcomed the dignitaries on the dais and thanked them all.  In addition, Devendra Pai gave brief information about the earlier five batches and their achievements.