Evaluating learning through exams is the greatest approach to comprehend one's effort since learning is a process. Not many aim to provide proper and affordable coaching to the ones who cannot afford the same. But there are a few exceptions as well.
Mr. Nikhil Agrawal, founder of UPSC WITH NIKHIL, aspires to offer high-quality information to all aspiring officers at no cost or at a low cost in an era where education is increasingly seen as a business when it comes to coaching for entrance tests. Through his YouTube channel, app, and website, Nikhil Agrawal has been paving the road for millions of students by offering lectures on the subjects needed to pass the UPSC Civil Services Exam.
Nikhil Agrawal is from the town of Akot in Central India from the state of Maharashtra. Nikhil, an ordinary student in his early years who later rose to become the messiah of all UPSC exam candidates, was aware of the importance of both hard work and smart work. He graduated from Nagpur with a bachelor's degree. Nikhil received an offer from a government training centre to teach, and since then, he has been teaching with the aim of helping those in need including students with Visual Impairments. He was a mediocre student, but when the opportunity to succeed came, he gave it his all. His accomplishments have served as an example for young people who have gone through the same process. He has experienced challenging situations that have shaped who he is now. According to him, the goal is often far away when pondered about, but is close when one begins to carry out the plan to reach it.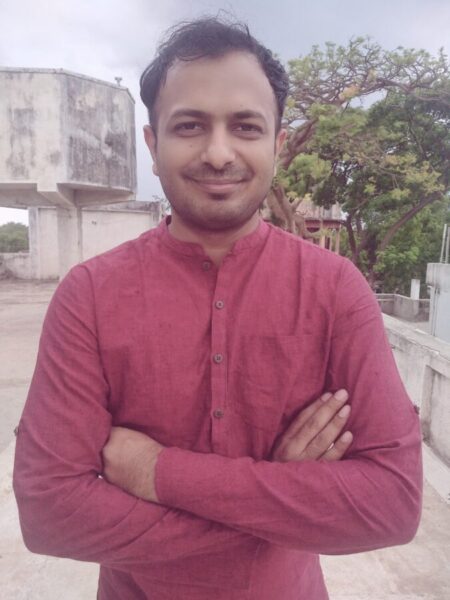 Nikhil, a successful self-made individual, has always been a kind and jovial guy. Nikhil has experienced challenges, toil, labour, happiness, frustration, loneliness, and success on his way toward being known as "the guy with a soft heart and enormous knowledge." Every student in India has heard about his achievement. Nikhil has achieved his dreams of being who he wanted to be.
Nikhil and His Studies
Nikhil learned about the benefits of passing the UPSC Civil Services exam. He wasn't prepared, though. He had no clue how to prepare for it at all. That didn't disappoint him either. He self-prepared and passed the UPSC Civil Services Prelims Exam three times, each time with exceptional marks.
He began teaching others in the hope that it would aid in revision. Additionally, he thought he may receive financial advantages that would support him and his family. Nikhil did it all, from sleeping in railway stations to studying and teaching in various places.
His Story of Success
In 2018, Nikhil Agrawal founded UPSC with Nikhil, a centre for UPSC Exam preparation to offer guidance to Civil Services exam candidates. He observed several other pupils having difficulty when he gave the government examinations. Their plight opened Nikhil's eyes, and he made the decision to quit his job and begin actively assisting these youngsters directly.
UPSC with Nikhil is a platform for students to get proper coaching for the Civil Services exams. It provides affordable education to make it more accessible to everyone. Nikhil, a problem solver for many, responds to hundreds of questions from students each day.
The key, according to Nikhil, is to set daily goals and work toward achieving them. As fear and frustration are unavoidable obstacles on the road to achievement, he uses them to his advantage in order to scale new heights.
According to Nikhil Agrawal, achieving a goal requires more than simply wishful thinking. There are several steps involved in achieving the goal. He discusses the importance of hard work and smart work as well as when to use each. He explains to his pupils that in order to attain the ultimate objective, they must create daily, more manageable goals and work toward them instead of pursuing the larger one.
Nikhil is a seeker, a hard worker, and a thinker who is constantly looking to learn new things. He arrived at his current position through a journey of study and knowledge dissemination.
Nikhil has additional attributes that he has attained in addition to his work success. He passed the Western Classical Guitar and Music Theory exams at Trinity College of London. He enjoys preserving his physical well-being and musical knowledge. Nikhil has divided his life into portions devoted to music, mentoring young people, spending time with his family, and travelling. Nikhil maintains his joy despite difficulties. He gains wisdom from his frustrations and mistakes. He never stops learning.
The quantity of visitors to his website is a clear indication of his success. Around 60000 students visit his website www.upscwithnikhil.com every month. The accomplishments of Nikhil Agrawal are a testament to his fortitude, commitment, and perseverance.
You must surround yourself with patience and a drive to succeed if you want to be what you want to be.
Nikhil has had enormous success in a relatively little period of his life. His accomplishments are many.
There is never a dull moment on the trip to your goal. If Nikhil was able to accomplish his goal, so can everyone else. In order to succeed, all you need is commitment. Many people have been inspired by Nikhil's success story to date. If people could only dream, they would never advance in society. Learning is a process, and success involves conquering challenges.